This is the wedding day of my dad's older sister Nellie, far right on the photo, around 1932, first left is Lottie, the oldest of the family, Tommy Feeley, Sally Feeley and my dad, Jim Feeley. Where is the bridegroom ?????? ~ Matthew Keen.
Mum and dad's wedding day - 19th February 1938
Left to right Frank Wood, Mary Waterson (chief bridesmaid), Harry Winder (best man), dad, mum, Tommy Hawley, Lottie Wood and Charlotte Shaw.
Saint Mary's Church ~ 1960
Annie and Harry Winder - August 1937
The lady, third from left is Mrs. Brown, she took care of me, whilst my mum went back to work after my dad went into the army. Mum only stuck it a few weeks, I used to cry for her everyday, she often told the tale that when she decided to leave work, she put her arms round me saying, "never mind, love, if we have to live off bread and jam, I am not leaving you". Mrs. Brown was a very kind soul, this picture was taken at one of her son's wedding, I think his name was Ernest. Once again the fashions to me, are interesting.
Our wedding day - 10th September 1960
Mine and Stan's wedding day ~ September 1960
The Polding Family, My Auntie Lottie, Uncle Alf, my cousins Molly, Trevor and Kathryn, Tom (Molly's husband) and Barbara (Trevor's wife)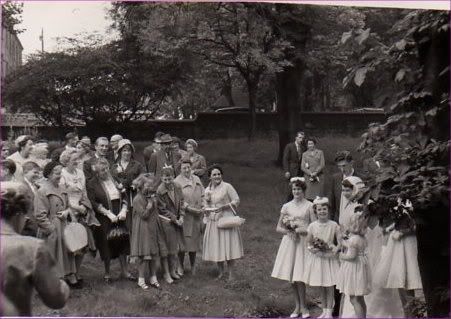 My cousin, Elaine Shaw giving me a horseshoe, not a real one.
A little different to our niece's wedding - 7th July 2012, which took place in Johannesburg, South Africa.
My young "cus" Julie who married Matthew James on the 28th December 2012
Me with my little sister, Elizabeth, she was only 10 years old.
The Feeley Family - St. Mary's Church
The Winder family on mine and Stan's wedding day September 1960
Sarah and Tommy Hawley's wedding day, August 1935. On the second right is my mum, she was chief bridesmaid.
Tony & Anne Hawley's wedding day- 7th August 1961
My grandma Waterson with her four daughters, Sarah, Mary, Annie and Norah.
I was Matron of Honour for my cousin Anne, her friend Carol was the bridesmaid.
A few of the guests - I love to look at the "fashions"
Mary Lipscombe & Carol~ Sarah & Tommy Hawley
Tony & Anne's Wedding 7th August 1961
Janet Lipscombe and David Lomax were married at Darfield parish church on the 27th October, 1984
Helen
Janet & Michael
Sarah
Our family
one of my favourites.
Mary's Dad
The Three of us. (again)
Mary, Jack, Tony, Elizabeth (my sister) our cousin David.
Mrs and Mrs Shaw - Syd and Leonora, they were our next door neighbours for nearly 32 years, when we lived at Ardsley. We could not have had better neighbours, many is the time that we would share lots of laughter, they were both natural comics.
Sadly they are now both deceased .
My brother John and his wife Lynda.
Natasha and Stephen Watson who were married Saturday 8 November 2003 in Virginia. USA
A family wedding ~ 1963, Mum, Dad and Me..........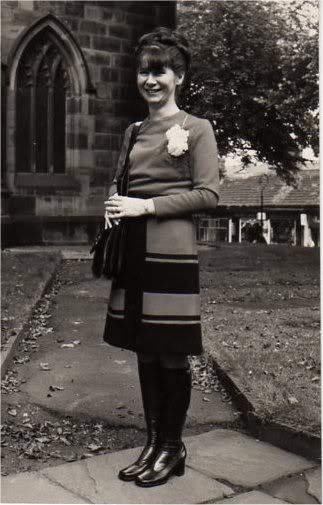 Me at another family wedding, St. Mary's Church, 1972. How the fashions had changed in nine years.
Our niece, Catherine Feeley who became, Mrs Todd Ballance on the 2nd September 2009