A Magic Moment
A magic moment I remember:
I raised my eyes and you were there,
A fleeting vision, the quintessence
Of all that's beautiful and rare.

I pray to mute despair and anguish,
To vain pursuits the world esteems,
Long did I near your soothing accents,
Long did your features haunt my dreams.

Time passed. A rebel storm-blast scattered
The reveries that once were mine
And I forgot your soothing accents,
Your features gracefully divine.

In dark days of enforced retirement
I gazed upon grey skies above
With no ideals to inspire me,
No one to cry for, live for, love.

Then came a moment of renaissance,
I looked up - you again are there,
A fleeting vision, the quintessence
Of all that`s beautiful and rare.
Pushkin.
Royal Artillery
Me & my mum Dad 1944 Dad 1942
Dad's Medals
From left to right - World War 2 Medal 1939-1945 Star, The Italy Star, The Africa Star Medal ( the no 1 denotes the First Army) 1939-1945, The Defence Medal and lastly, 1939-1945 War Medal.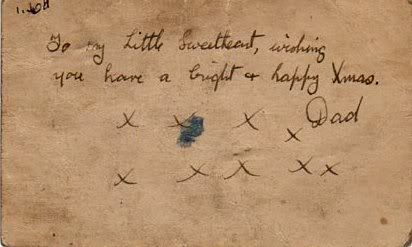 A Christmas card from dad to me, whilst he was serving in Italy - 1944
Mum's Identity Card, during the war.
My identity card during the War.
I have been reading a note book in which my mum wrote some of her memories and experiences, whilst my dad was on Active Service during WW2. I would like to share it with all of you. Mum writes from the heart and I remember how things were for her, together with millions of other wives, families and sweethearts who were left behind. I shall put extracts in the relevant chapters.
NORAH FEELEY - part 2
Jim landed in North Africa, I think at the end of November 42. He was in General Anderson's First Army and after he had gone overseas (I didn't know where), I opened the Sunday Newspaper and the big headlines sprawled across the top of the front page " General Anderson's First Army racing across Tunisia". Jim was in the 2nd lot and sister Lottie "cheered" me up a lot when I heard her say "The first lot were a surprise to the enemy, but they'll be waiting for the next lot". Fear is a horrible experience - it just grips you - there is no escape from it and I'll never know how we survived those days. Our Mary was my comfort, a bright happy little girl - she kept me going at that time.
Jim's first green envelope "on Active Service" arrived about Christmas - written when he was on board ship. He told me the ship was overloaded, and if they had been attacked or hit a mine, they wouldn't have stood a chance. By a strange coincidence he met with his best pal, Harry Winder, who was also my brother in law on board ship - Harry was in the Service Corp, and, once they had landed in Algiers, never met again until after the war when they were de-mobbed.
I just lived for the post to come - Jim's letters were so precious to us. I used to talk to our Mary about her dad all the time - she never tired of telling anyone who would listen "My dad's in North Africa - my mam has got some letters and there is lots of kisses in it, and he draws donkeys and camels for me.
The blitz went on most nights, and then the doodle bugs started coming over - we were living in Barnsley - we only got the odder or two on the outskirts - Sheffield was the worst hit in our part of the world. We hadn't an air raid shelter where our cottage was, so I used to go up to my sisters - they had a fairly large communal brick shelter at the bottom of Churchfield Terrace. We spent many weary sleepless nights, my mother and three sisters, with their small sons - Jack and Tony. How we all dreaded the night time, especially the dark nights, when the awful wail of the sirens started - my stomach seemed to twist into knots and then the drone of the German planes getting louder and louder and we could tell when they were directly over us. I hated moonlight nights, they seemed to bring more raids - but then there were some comical things said and done my some of the older people, which mude us laugh and relieved the tension.
the brick ones were - very rough structures - wooden seats round the brick wall, where we all sat upright - and a small part portioned off with a toilet in it, a kind of commode. Poor Maggie only lived about 20 yards from it, on High St and was usually getting her husband (Frank's) supper ready when the sirens went. (He was a coal miner, so were many in our neighbourhood and were "reserved occupation" all during the war. They a necessary part of the war effort, but in my opinion, never seemed to realize what it was like for women whose husbands were serving in the Forces. I realized that after the war when we talked to the colliers - I know they had to put up with shortages and rationing, but they earned a good wage in the pits and afterwards drew a lot of money which was known as "Post War Credits" and was paid to them in the a lump sum - quite a long time while after the war ended.
Jim was rather bitter about that - we were existing on a very small army pay. I had to go back to work, to eke out the money for Mary and me, but after 6 weeks I gave it up, because she cried when I left her and I vowed if we lived on bread and jam, I would never leave her again. Anyway to get back to Maggie and some the older neighbours who came into the shelter. Maggie would be already sitting on the toilet in the bricked off part , we could hear her moaning and I used to feel so sorry for her. Her husband used to come in looking for her when he got home from work, he was a very blunt Yorkshire man and he used to say "Are you in there, our Mag"? A quavering little voice used to answer him "I am in the toilet Frank", then he would say, "what was in the pan you left boiling"?. They were usually potatoes and she had rushed out in such a hurry and forgot about them and Frank would say to her "Well they aren't taties now" and everyone would laugh - then the tension would come back. Some would stand outside to have a cig, but when they heard the planes coming over, would get back in the shelter very quickly saying, "They're eer ageean".
Old Sam Barlow was the worst offender - he'd say "Don't rest your back against the wall 'cos fi they drop a bomb, you'll know about it! One night he did that so many times that one of the women, usually a placid nice woman turned on him and said, "Shut up, you bloody Job's comforter, if you can't tell us any good news, stay artside" and he slunk outside and gave us a bit of peace. One night we had been in the shelter 12 long hours - at 6 o'clock next morning, the all clear went and we all went to our beds, absolutely tired out, but ten minutes after, the sirens went again and some of the sights that rushed back in the shelter!. Most of the older people without their false teeth, some of them who always wore their hair in a "bun" scraped back from their faces, with hair hanging down their backs. Some of them half dressed, it seems funny now but it didn't at the time. We couldn't recognise them in their night attire, but we were all so frightened. We use to feel shattered coming out in the lovely morning air. "Happy days" - I don't think and all the time we knew we were the lucky ones, it was God help the poor people in London, Coventry and all up and down the country. They were so brave.
NORAH FEELEY - THE REASON WE WENT TO LIVE AT BURTON GRANGE.
For nearly all the 6 years we lived in our little cottage, I kept trying to get a council house, because our landlord who was a "big noise" on the bench , owned our house and also, I think, all the rest of the houses on Church Lane. He knew that because of the war, all council house building had stopped and even though our house was "condemned" he was crafty enough to appeal against an order for them to be pulled down, so we had no choice but to live there, even though the bedroom was damp. We had no hot water - a penny in the gas meter and a cold draught wash house, which I used one day a week. It was alright for the two of us, but when our Mary was born, I was worried for her - on the whole she was a healthy baby. She was only 61bs 6ozs at birth - but I knew that we needed a better house, and every time I heard about a council house becoming vacant, I went to the housing office, where I was always put off by promises and excuses. I used to get so disappointed at the hypocrisy of the housing committee - they had their favourites and I certainly wasn't one of them.
One day a stranger came to see me (this was when our Mary was four and had started at St. Mary's Infants' School, with Jack and Tony. This woman, who lived in Keir Street, and was called Mrs. Hunt, asked me I would swap houses with her very old mother and father, who lived in Lang Avenue in Burton Grange, because she would be able to look after them better. I was doubtful - I didn't really want to go anywhere but Wilthorpe, but when I wrote and told Jim - he was full of enthusiasm for the idea - and even though I knew it was a big step to take at that time, I went ahead with the house change. I went to look at the house with Mrs. Hunt - it was very dirty and neglected, the old people looked as if they had never seen a bath and later I found a few bugs under the wallpaper in the big bedroom - so I had to have the house fumigated. The old man even kept coal on the kitchen floor, the garden was like a jungle - ( that was when our Mary who could read and write by this time, wrote in her dad's letter, when you come home, dad, you will "after" do some gardening. That was October 1944 and there were hopeful signs that the war was drawing to a close or at least, going in our favour. But for all that, even though I was busy cleaning the house, and getting it cosy for the time when we would be together again, it was a very hard time - Jim didn't come home until 11 months after we moved from Church Lane and it was the loneliest time of my life. We didn't know anyone- my coal ration took a long time to come through and when the first snow fell, we were actually without fire. I remember carrying a basket of coal from my sister's in town, but that didn't last long . Our Mary got a bad cold and was ill with a temperature - I was frantic with worry about her. I had registered for my rations at the co-o- at Cundy Cross and also for my allowance of coal. I went up to see the manager and told him how we were fixed, but he wasn't very nice - he didn't know me and I remember I broke down in the shop and wept as I started to explain to him, what it was like for us. ( I had left our Mary wrapped up on the settee with a girl of her own age with whom she had made friends). I do remember that really there was humour in the situation, the co-op was full of women, who blasted Mr. Jackson, he retired into his living quarters and sent his wife out to face the women. The more sympathy I got, the more upset I became, because I knew that I didn't like Burton Grange - the lack of buses, which stopped us going up to my sisters in Churchfield hit me badly and also I had to transfer our Mary to Littleworth School and she used to cry every morning, when I left her. She settled down eventually - more than I did. There were many times when we had to walk to Barnsley when the buses were full, but she didn't complain. Anyway - to finish my story about the coal situation - I had just got back to the house when a knock came to the door, and there was a Mrs. Adams who lived further up Lang Avenue - with two buckets of coal in a pram. Soon after another knock on the door and Mr. Jackson had sent us two sacks of his own stocks to keep us going - I was overwhelmed at the kindness shown and after that, as people got to know us, they sold me part of their "home coal ration" and I was never short of coal again.
One neighbour told me afterwards that she had noticed there was no smoke coming from our chimney - but did not like to come and enquire the reason.
NORAH FEELEY - BURTON GRANGE (continued)
I passed my time cleaning the house -taking Mary to school twice a day - and sometimes if there was a suitable picture showing at the Ritz in Barnsley, I used to wait for her coming out of school - put up some sandwiches and, if we were lucky - we got a bus into town and queued outside the cinema, till it was time to be admitted. Most of the films were American ones, but not like the sort that are shown today - they were romantic and mostly "boy meets girl" with happy endings.
I once took her to see "The Wizard of Oz" with Judy Garland. I loved that film, but when the wicked witch came on, Mary was sitting on the floor - scared stiff and all the coaxing in the world wouldn't get her off the floor until the wicked witch had perished. I was so annoyed with her, because we had queued outside in the cold for a long time.
(note from Mary) Blimey I was only 5 years old. I do remember hiding on the floor, and my mum being very cross.
But never stayed mad with her for long. Mary was a bit of a handful at that time. She slept badly, always wanted me to go to bed with her at 8 o'clock with ???? And it got me down a bit. I used to sit by our bed with her and read her stories and all the time she stared solemnly with those big blue eyes as if to say - don't leave me on my own. I was missing Jim badly, it was such a lonely life. I was so cut off from the rest of my family and to make it worse, that summer, Mary developed scarlet fever, so we were really "confined to barracks". She wasn't ill at all, but I had to keep her in bed (which took some doing), because that summer the weather was lovely and even though I kept her in all the time, all the children used to gather under her bedroom window, talking to her and their parents weren't too pleased about it.
At that time, scarlet fever was regarded as a very serious illness and I was shunned by the parents, who used to cross the road before they passed my door. That worried me dreadfully because the doctor never suggested her going in hospital. When the district nurse came she explained why!. Mary wasn't ill and she could have quite easily gone into Kendray Hospital (which was the fever hospital) and picked up more germs and developed more serious illnesses. That made me fell about her staying at home. During that time she stayed in bed for about 3 weeks and when I let her come downstairs it was V.E. night and our neighbours lit a big bonfire near our house so she could sit at the window and watch.
But still Jim didn't get leave until September 1945 (he had been abroad for just 3 years) and then it was only for a month and he went back to Italy in October. I remember so well the day he came home for good (de-mobbed). We knew the day he was arriving and Mary gathered all her friend round to wait for him - to show him off to them. It wasn't at all the romantic meeting I had imagined, as our house was full of kids - she wanted to show off "my dad", so much and look at the presents he had brought us.
A few letters from my Dad during the war. copied by Kieron, who is fascinated by his Great Grandad Jim
The letters were written from Italy except for the last one.
Gnr . J Feeley 11424796 ,
152 / 51 LAA Rept . RA
BNAF
My Dear Little sweetheart ,
I bet Mam will be surprised when she picks up and finds it's for you . She always tells me what you are doing & says you've been a very good girl . Thats why I sent you some Oranges & goodies . I hope you got them alright .
Did you like Jacks party? I hope you have a very nice one yourself at Christmas . I wonder what Father Christmas will bring you this time? I bet he's a hard up getting things for little boys & Girls now .
Never mind chicken if you don't get a lot cos when I come home , you know what I said I would buy you ? But , don't grow so much cos I said it would be as big as you , & if you grow such a big girl I won't have enough money will I ?
Do you still look after little David ? I bet he's a grand ' en.
, I remember when you were a little tot like him , and you use'd to cry when you were bathed .
Do you now ? I don't think you will now c'os all the others would laugh , wouldn't they .
Mam says you like school very much .I'm glad you do . I would like to hear you sing all the songs you learn . I used to learn to sing like that , from Miss Saville. That was a long time since but I haven't forgotten . bet I'd look funny now sitting with all the little ones now . I wouldn't be able to get my feet under the table
Well little sweetheart I hope you have a Happy Christmas & get something nice . Give Mam a real big Love from me . I always think of you both every night . do you remember when I used to give you a Donkey ride to bed ?
With Tons And Tons of love
For you & Mam & plenty of kisses .
Dad
X X X X X X X X X X
Heres one I bet you don't know
" Freddy Teddy " X X X X - lots more kisses were included.
This is little David aged about 6 months.
11
- 11 - 45 GNR J. Feeley 11424796
152 / L . A.A Regt. RA .
CMF
My Dear Little Sweetheart,
I was ever so glad to get your letter . Mam told me that you had borrowed her Fountain Pen to write it with. I can see you had'nt forgotten to write & spell with stopping away from school so long . Still I'm glad you've started again or else you would have been forgetting so I want you to try hard to make up for all the time you were at home while I was with you and Mam was poorly. Then soon , you will be able to write letters to me in double writing.
Just outside of this house were we live we can see Italians building fishing boats . It takes them weeks to make one 'cos they are so big . Not steam boats but wooden ones with sails. The other day we watched them take one down the street and put it in the sea , and at night it went sailing away to fish with all the others. Theres about 50 of them and they stay out all night and come back in the morning loaded with fish . They are ever so pretty to watch as they sail out in the evening with there red sails shining in the sun as it dips behind the hills behind us. In the morning yhey are all in the little harbour when we look ou t of the window . We never wake up early enough to see them come back. I wouldn't like to be a fisherman in one of those boats, 'cos when the wind is blowing hard and the sea gets rough I should be scared of it turning over , sometimes when the sea is very rough they do turn over and sink.
Do you now what I am doing now? Iam learning to drive a motor lorry I can drive a bit but they won't let me go out by my self yet 'cos I have not had enough practice and I might knock someone down , but in a few days I'll be able to. I wish you were here with Mam then I'd be able to take you for a real long ride. I'd be careful if you were riding with me.
Well chick be a good girl and help Mam all you can . I don't think it will be a very long time before I am coming home again . about three months , and next time I hope it is fore always.
With Tons of love for you and Mam
X X X X X X Dad X X X
P .S you didn't tell me in your letter what the ten shilling note was for. Did you ?
I love you and Mam 10 Tons
X X
In this letter Dad is referring to the only time ever, I was allowed to stay off school (apart from being ill). We hadn't seen him for 4 years and he was allowed a month's leave, it was October 1945 and although the war was over, there was still lots of clearing up to do. We knew that he was coming home, but didn't know when, I went to bed as usual one night and I can remember my mum, waking me up and saying "Mary, who is this"?. I sat up in bed, flung my arms round him and said "it is me dad".
I was most astonished the next morning to waken up in the back bedroom, I had been sleeping with my mum !!!!!!!!!!!!!!
The month flew by and dad had to return to Italy before he was demobbed, I was carried kicking & screaming off the railway platform, after we had waved him off.
Dad in Rome, with his hand in his pocket.
CNR J. Feeley
11424796
Dear Sweetheart ,
I am sorry to hear that our Mary is such a bad girl , but it's only to be expected. I'm sending the chocolate but tell her that if she is not good I will not be sending any more & when I come home I will smack her bottom .
The other night we when we were on guard , we had an air raid it wasn't much but somewhere North of here had it pretty bad.
You seem to have got the wrong idea abaout me being hungry ' it's not cos I'm not getting enough to eat .
I'm always hungry knockers about I've never felt better in my life . The last two or three nights I've been having a sup with one of the boys.
I've just received a letter from our Harry. wishes to be remembered to you I wish I was as near as he is I should have been home this week., and four or five have got 48 I did'nt apply cos it's not as if I could Leave here at 4 oclock I could be in Sheffield at 1: 30 am Saturday morning + I should have to catch the 10 - 5 from Sheffield On Sunday morning on top of that the fare is about £ 2.
Well Dear thats's all I have to write just now I hope you like your badge , I'll buy you a better one once I get well off .
With All My Love
Your loving
x x x Husband x x
Jim
I LOVE YOU X
This letter was written whilst he was "square bashing"
This photo was taken in June 1944.
On the back of the photo, my dad's sister Nellie, has written,
Dear Jim, I am sorry I am not dressed up, I was cleaning up, when I had the chance to have this photo take, you know how much love is sent with it, clothes don't matter. I am standing with Auntie Nellie and her son, my cousin Jack Keen. It was taken, in a tiny court off North Pavement, off Churchfield, Barnsley.
Dear Mary ,
You're Mam says you've been a good girl . So if you tell her to send the box back I'll fill it up with chocolate again . Don't forget to love her for me .
With love to my little sweetheart
X X X Dad
My dear little sweetheart ,
Did you get the pictures of those little dogs alright , if you did I hoped you liked it . The mister who drew them said he would draw another when he's the time . He can draw a lot better than me can't he . How is little David are you looking after him alright , I hope you are . I'll bet he's a nice little baby isn't he . Give your Mam an extra big hug & tons of kisses from me .
With tons of love from
Dad
My dear little sweetheart ,
I had a letter from your grandma today . She said that you and Mam had been to see her . Do you like going to grandmas ? I bet you do co's she gives you some goodies doesn't she ?
I went to the sea side the other day & what do you think I saw . I saw that stork again . He was sat way up on a tree top in his nest .He did look tired as though he had flown a long way . I bet he's the one who brought aunty Mary's baby . Did you see him ? What do you think of the little baby I bet he's grand . You will look after him won't you? and not let anyone hurt him .Someday I'll see if that old stork will bring us one .When we were swimming in the sea there were thousands of little fishes . We did have some fun trying to catch them . We didn't catch any cos they were to fast , darting in and out among the rocks . What do you think , I bumped my head diving in . I thought it was deeper than it was . I did look a softy .
You should have seen a Brown little boy swimming & and diving . He was only as old as you , but he could swim as well as anyone . After we finished swimming we had some ice-cream & pop . It was grand .
Well chicken thats all for now I'll write again soon ,
With tons of love
Dad
PS I love you 2 tons
X X X X X X X
X X
Give Mam a big love from me X X
David Watson 1943 The Hawley Family 1941
Auntie Sarah and Tony (Hawley)
In those days the photographs were tinted by hand.
Steve Watson
The Black Watch Badge ~ story about the kilt to follow.
Auntie Mary, David and Uncle Steve.
Tommy Hawley The Royal Army Service Corp.
Mary, Jack & Tony 1940.
The three of us were more like brothers & sister than cousins.
Here we are again, more of us, but just as close......... I have lost count of the number of photos, we three have had taken together.
This one was taken on 29 December 2004
The war years were hard for everyone including my family, we didn't have a man at home, for four years (apart from an uncle who was ill). We were one of the lucky families, all our men came home. Money was very tight and for a while my mum returned to her old job at the linen weaving factory which belonged to Hickson, Lloyd and King for a short time. My mum is pictured here at her loom, it was very hard work. (She was working there when King Edward V111 abdicated and hundreds of pounds worth of linen was sold off, very cheaply, it had been especially woven, to commemorate the Coronation, which never took place). This photo was taken in 1942. copyright Barnsleyweb.co.uk.
Redbrook Hill, with Hickson, Lloyd & King's linen weaving mill at the bottom of the hill. I can remember going to see my mum whilst she was working there, the noise was deafening and the air full of dust from the linen as it was being woven.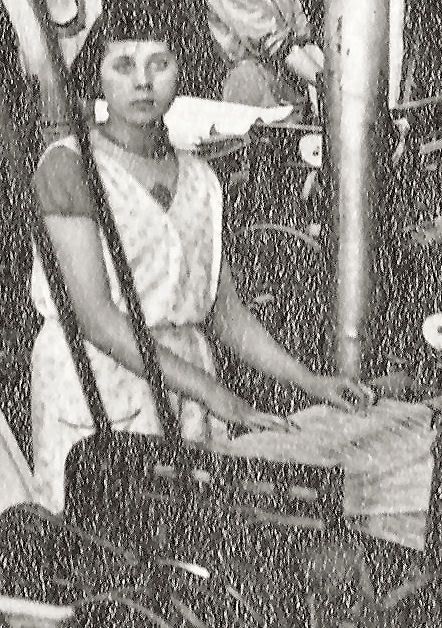 May Starkey, working at the loom, c 1942 my Aunty Mary's best friend, who was also a very close friend of the family.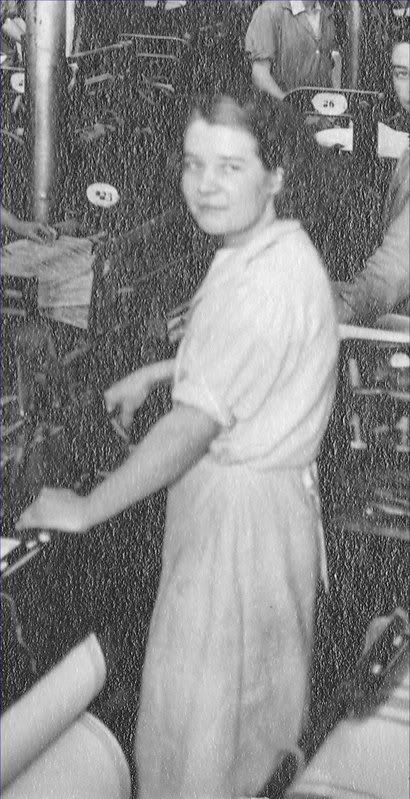 Norah Feeley (nee Waterson) working at the loom, Redbrook Mill, c 1942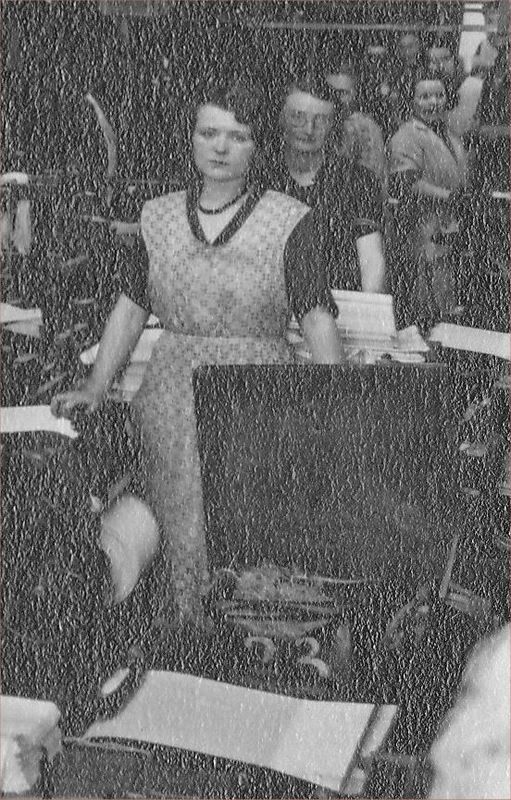 Weavers at Hickson, Llloyd and King, where my mum and grandma worked.
Grandma Waterson ~1942
We were a lot luckier than these poor children who had to be evacuated, from the cities which were in danger of being bombed. They had to leave their mums and families behind, whilst they were sent to live in the country or less dangerous towns. Some evacuees were treated very well indeed, and didn't want to leave their "temporary" homes when the time came, others were treated like little drudges.
My mum applied to have an evacuee, but because we only had one bedroom at the time, she was turned down, I can remember her taking me to Barnsley bus station and seeing coach after coach full of children arriving in Barnsley, to be settled into new homes.
Some evacuees working on a farm.
The Land Army, during the war women could opt to work on the land instead of going into the forces. These women helped to keep Britain fed, it was very hard work, but these woman look very happy in their work. It is only in recent years that The Land Army was represented at the Cenotaph on Remembrance Sunday, long overdue in my opinion.
music "Body and Soul"