Jack & Tony waving the flag
The street party to celebrate the end of the war was held in School Street Barnsley and organised by Mrs. Stanley landlady of my family's local pub "The Black Boy". The dog in the front of the photo does not look too impressed, maybe he had been sampling the beer barrels, made ready for when the men came home.
The photo of the Town Hall on VE night is (so I am told) a rare one. It was the first time that we saw any lights in Barnsley. A few evenings later, all we children were taken round Barnsley Town Centre, to see the streets lit up. We could not have been more thrilled than if it had been Blackpool iluminations.
We also remember and salute, with gratitude and pride, the men and women who have suffered and died to make this triumph possible. Winston Churchill ~ 8 May 1945
Dads reference when he was demobbed from the army on the 9th May 1946.
Barnsley Town Hall ~ VE Night The Royal Family at Buckinham Palace with Churchill VE ~ 8 May 1945
V.E. Day 8 May 1945
A soldier reunited with his family.
Dad's home, wearing his "demob" suit, which fitted where it touched. He drew the line at accepting a trilby hat.
NORAH FEELEY - part 5
I remember he had been issued with a grey suit - demobbed gear and of all things a trilby hat!. We never saw the hat, he lost it on the way home - said it flew out of the train window, but I always suspected it was lost on purpose. He said, that, in any case it was too small for him ( he had rather a big head) we had some fun at his expense but he took it all with his sense of humour. He was so happy to be home again, so was I (and Mary). He came home in March and we had a holiday in Scarborough in June. He was a little upset because I was rather quiet during that holiday, and he said that he was disappointed because I didn't seem to be enjoying it. I was of course, but the real reason was - I knew I was pregnant and though I was very pleased - I just felt different somehow and just want to adjust in the change in me. Everything seemed to happen so quickly - Jim's home-coming, my pregnancy, and adjusting to having a man to look after, after 4 years, was a bit overwhelming - I was always very sick and tired, it was a real effort to cope but we managed alright, there was always love in our home and we were so happy to be together.
Jim was sent to a housing estate at Cubley, near Penistone, he only had 3 weeks leave before he started work - that was because he chose to leave the army on "Class B " release which meant he got home sooner, but instead of the three months army leave with pay, he only got three weeks before he started work.
Every school child in the UK was given a copy of this letter from King George V1th in June 1946, they were handed out in School.
After the euphoria of the celebration of the end of the war, things seemed to fall flat, we were thrilled that our dads were coming home, that goes without saying. I think we expected them to appear on our doorsteps the day after VJ day, and obviously this wasn't to be the case. Whilst we knew of some of the dreadful things which had been happening, as children, we had no idea of the horrors which had been taking place, so far away. Nor did we realise that, there would be a lot of "clearing up" to do, by the British Forces, before our dads did come home for good. However gradually they did come home, and in some families there was a lot of adjusting to do, it was difficult for some children to get use to having a dad again. Indeed some of the children could not remember their fathers at all, being born after they had been sent overseas. There wasn't any such problem in our family, we could all remember what it was like to be a complete family, by all, I mean myself and my two cousins Jack & Tony. We were still the terrible threesome and as I have mentioned earlier, that bond still exists today. My dad came home, in March 1946 and not quite a year afterwards, I was given someone, who I had wanted since I was 2 years old. A baby brother, our John who was born on the 20 February 1947. I was thrilled to bits to have the baby I had been wanting my mum to have all those years, I couldn't understand why I had to wait until my dad came home. In September 1950 I was thrilled again, along came my little sister Elizabeth one of the most beautiful babies I have ever seen. Here she is aged 4 months.
In the Summer of 1946 we had a holiday in Scarborough, it is still one of my favourite places, I was disappointed when I realised that the sea was grey and not the brilliant blue, as depicted on the pre-war holiday posters. Here I am have my first ice-cream, which needless to say did not disappoint me. The 2 pictures of Scarborough, below, do not do the town justice. Scarborough has always been a special place for us, it is a town which has everything, the traditional sea side attractions, with beautiful views and a wonderful surrounding area to explore.
I was enjoying the Punch & Judy Show on Scarborough Sands
readiness for my holiday, my mum had knitted me a pale blue bathing costume with a huge white star fish on the front. I thought that I was the "bees knees", until I came running out of the sea, I was showing a lot more than my knees, the costume had become water logged and the straps had stretched down to my navel. Needless to say I didn't go into the sea again, wearing that garment.
The infamous bathing suit.
Rock pools ~ Scarborough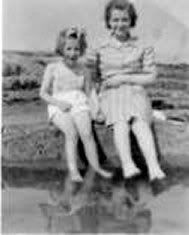 My mum and I, at the rock pools, Scarborough's South Bay, it was a magical place for children. - June 1946.
There was a chronic shortage of housing after the war.......... the Government decided that temporary homes would be built, these homes were prefabricated and had one floor level, these became known as prefabs.
I longed to live in one of these, to me they were like dolls' houses, some prefabs became permanent homes when local councils built bricks around the blocks of concrete, from which they had been constructed.
A typical scene, a housewife hanging out the washing, behind her is her prefab home.