My Mum and Dad
I have already written that when Dad was twelve years old and Mum was ten years old, he knew that he would marry her. Our Jim was nothing if not determined, although I don't think that our Norah needed too much persuading.
Mum's 21st birthday card from dad.
They were absolutely devoted to each other, the worst time of their lives was when they were parted during the second world war, this parting last over four years.
On the 19th February 1988, they celebrated their golden wedding anniversary, not knowing that within fifteen months, they would be parted in death. It may seem melodramatic the way I have written this, but my mum never recovered from losing my dad, she joined him on the 19th October, 1997.
I could go on and on about my mum and dad, but I shall just say, that the three of us could not have had better parents, we shared love and laughter as we were growing up and we are grateful.
Golden Wedding Day
19th February 1988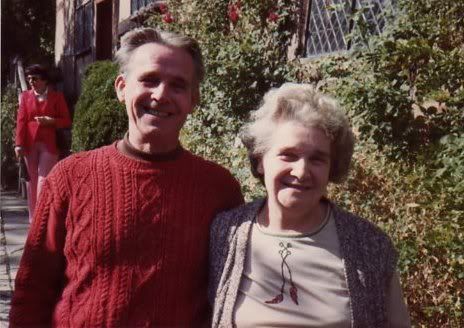 Mum and Dad - 1981
Written for Mothering Sunday. Thank you to our friend Norman Woolley for allowing me to use it:-

Today we mark a celebration
Held throughout the nation
For it is to our mothers dear
Be they far or near
That we hold them in great esteem
Without them where would we have been
For without their tender care
None of us would be there
Or here as it may be
Neither you or even me
As a child in their loving arms
We were cosseted by their charms
In early life they nourished us carefully
And watched somewhat fearfully
Taking our steps, first unsteady
Mother was there ever ready
To catch us lest we fall
We were most certainly her first call
The years passed as we grew
Mother was there, and we knew
That whatever passed
She would love us to the last
Then came the time to leave home
How could we leave mother on her own
Well any loving child should know
That when you leave can be a blow
But whether you be far or near
You can always bring her some cheer
The loving memories of the past
One hopes will always last
So as this is a special day
Let us always say
Send your love to your mother
For she is definitely like no other
I have found an exercise book, which contains some of my mum's thoughts after my dad died. I know that she wouldn't mind my sharing it. Mum started writing it during the first Gulf war, which obviously took her back to when my dad was away in WW2.
NORAH FEELEY - 1991

My thoughts just now are with all the forces in Iraq, who are fighting tyranny, I pray for them every night and feel compelled to watch T.V. for news. How strange it seems to be able to watch the action - so different from the last war, when we relied on radio for news, yet still, this last week has brought it all back so vividly. Seeing all the men, some of them little more than boys, seeing the fear on some of their faces, knowing in my heart that I am thinking the same thoughts as over forty years ago, will they ever come back? Poor lads, how I grieve for them , but in my opinion there was no choice but war, I pray for their families too, may God comfort them.

Jim was in what was called a reserved occupation at the beginning of the war, but had to work away from home, wherever the M.O.D sent bricklayers (etc), on aerodromes, in Suffolk (Stradishall), Bimbrook in Grimsby and then on to the I.C.I buildings in Morecambe. He came home when he could, but missed out a lot on our Mary's early years - but I always talked to her about her dad every day and it seemed as if he was always with us but we still missed him terribly.
In 1942 the "reserved" order was lifted, and building workers were called up en masse, at that time he was working on bomb damage repair at Hull, he managed to get home at weekends along with his work mates, but Monday morning he went back to Hull and told me that all the previous week's repair work had been wiped out, so they had to start all over again. In early Spring, 1942, after his medical test (A1 pass), his calling up papers arrived and on a beautiful May morning, I stood at our cottage door at watched him walk away from us. He was then Gunner James Feeley of the L.A.A. Royal Artillary - no. 11424786 and was sent South to a place called Arbairfield somewhere in the South of England. He was always a good letter writer and told me all the things about Army life, his training, etc., they were such interesting letters and so full of love for us that they comforted and I lived for the post to come.
Which she did, nearly every day, I remember she wore a shabby old navy and red uniform, but to me at that time she was the most welcome sight in the world. In August Jim had a nine days leave and later was sent to St. Agnes in Cornwell, in his letters he described the wild scenery, he was always a nature lover, and always said how he wished we were with him to see the marvellous country. Shortly after he came at very short notice for 4 days- little did I realize the significance of that because then he went to Ayr in Scotland, and everything was hush-hush - he couldn't tell me anything except to say that the King (George V1) had been to inspect them. My old next door neighbour next door said "If the King's been to inspect them lass - he's ready for sailing overseas across the watter". It was with a very heavy heart I received a green envelope in November in which he told me they were sailing - it was the end of the world.
Tired now! More tomorrow, Good night, God bless.