MAKING ENDS MEET.
Like many other families, with children growing up in the 1950's, we were on a very restricted budget. Dad never earned a lot of money, he had trained as a bricklayer in the early 1930's and he returned to this job after he was demobbed. I can remember one day hearing him and my mum discussing the possibility of him getting a job at the pit.* As young as I was, I was horrified and scared at the thought of him working down a coal mine, it seems to me, on reflection that I spent a lot of my childhood being scared of something happening to my dad.
He did get a job at Barrow pit, Worsborough, still working as a bricklayer, but underground, I have a vague recollection of the princely sum of £7 pounds a week wages. By this time my brother had arrived on the scene and money was even tighter. One strange thing which I never fully understood for the rest of my life, was after the mention of £7 pounds per week, my dad's wage was never mentioned again, even my mother did not know how much he earned. Maybe it was normal in those days, however, my mother knew for sure that her housekeeping money would be put on the table every Friday, dad was a really good worker and never missed a day's work. The one shift he hated, was the afternoon shift, which he always tried to swap with someone in exchange for a day shift. Afternoons meant starting at 2 pm and finishing at 10pm or sometimes later.
Friday was always reckoning up day, for my mum, she used to have an old biscuit tin, where she kept the rent book, the insurance book and any bills which were due to be paid, every Friday, out would come this tin.
Her first priority was the rent, it was her proud boast that in all the years of her married life, she had never once missed paying the rent.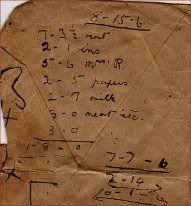 Above is my mum's "reckoning up". I can see her now, writing the items down, making sure that she had enough money to see us through the week. Bless her.
Secondly came the Insurance payment, which were collected weekly, by the "Man from the Prudential", this was very important to her, that we were fully insured. The food was the third priority and she would allow approximately £2 pounds per week for the Co-op rations ( she always called them rations, as I have already mentioned). The milkman was equal third, we had milk delivered every day and that was something we were never short of. The paper money was next on the list, dad was a newspaper addict, as I am, his main joy in a working day was coming home to a pot of tea and the Daily Mirror and a Woodbine cigarette.
By this time the house keeping money was nearly all spent, but she managed to clothe us well, by getting Co-op cheques. These were ordered through an agent and they were as the name suggests, cheques, the difference being that each week the agent would call and collect the instalments at home. By doing this, it meant that she could always keep us neatly dressed, even though we did not have many clothes, what we had were of good quality and bought to last. (Even if sometimes they did feel three sizes too big.) The Co-op cheque payment was the last item on the reckoning up list, finally there would be a few shillings left, to see her through the week, the money to pay for meat and fresh bread came out of these few shillings. A few shillings went a long way in those days, another expense, which I had forgotten was paying for the gas, which was metered, quite often I was sent next door asking for change, in pennies for the gas. When the gas man came to empty the meter, this was a red letter day, as he always left some commission (for want of a better word), all in pennies, but they were very welcome indeed. I think there must have been a set amount given refunded, depending upon how much money was in the gas meter.
There was precious little left for extras, but somehow if an unexpected bill had to be paid, then my mum would go into her little hoard, which may have been amassed by 6d pence per week, and sure enough there would be enough money……just.
Dad always used to joke that if my mother had been the Chancellor of the Exchequor, Britain's economy would be in a far healthier state.
* When my dad went to Barrow pit asking about a job, he took me with him, I was about 8 years old at the time, I had strict instructions to sit down and wait, whilst he had a chat with the Manager of the pit.
I have always been curious (my husband, says nosy), so after a while I became quite bored just sitting there, and I decided to explore.
I soon stopped my exploring, when I wandered into the men's shower room, and nearly caused a man to faint. Fortunately he had his back to me, but I can still see the startled face as he looked over his shoulder, shouting "Get Out". I was only too pleased to get out and I collided with my dad who had come looking for me.
(sigh) another slapped bottom and straight to bed when I got home.
music ~ "Georgia"