BARNSLEYANDFAMILY
This is my little sister, Elizabeth, she was three years old and I had taken her for a walk to Tinker's Pond. I dressed her up as a little princess, with flowers in her hair, round her neck and in her arms..
Summer - 1953
John, Mary holding my baby sister, Elizabeth - 1951
Elizabeth, me, John and our dog Judy -Wilthorpe Park 1952
Whitsuntide - 1956 in our front garden.
My little brother, John, taking part in Wilthorpe Infants' school fancy dress - 1952
Mum on the left and Auntie Mary on the right, my grandma Waterson is in the background, talking to one of her sisters. This photo was taken at our Tony and Anne's wedding.
St. Mary's Church - 7th August 1961
Me in 1968
I was Matron of Honour at a family wedding in 1968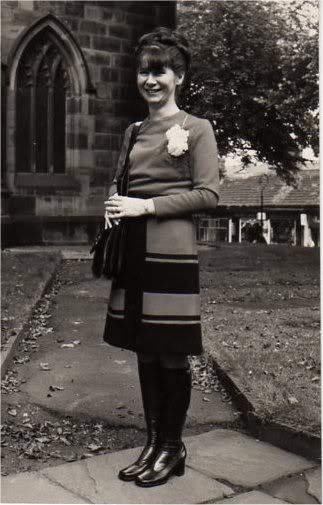 Me at a family wedding - 1972
This day was the end of an era for Barnsley County Borough, it was the day of the closing of the Motor Tax Office, 9a Shambles Street, Barnsley. Here I am with Doug Jessop, who I worked with, together with others. On the left is my boss Cliff Jenkinson, who sadly died last March. As you can see we were having a party, the doors had been locked for the last time. All records had gradually been transferred to the DVLD, Swansea. It was a sad day for me, because I loved my job.
Out for lunch at Brooklands, Barnsley,1983 - I am lost in thought.