Beckett Hospital in the late 1960's
Lads who worked at Cinesmith Television
St Mary's Church and Barnsley Girls' High School.
Church Street, Barnsley, from the roof of Barnsley Town Hall.
Good grief, look at the hairdo.
John, Me, our cousin David who lives in America and our cousin Tony, who like me has never left Barnsley.
The above photos were taken on New Year's Day 1989.
I have included these, because, my dad is on the second one and it is the last photo he had taken, he died on the 9th May 1989. It is not a very clear photo, Stan is at the front to the left, next my mum, then me with my dad, my brother John and Joy, Tony and Anne's daughter.
Elizabeth and Me at Mum and Dad's retirement party July 1976
BARNSLEYANDFAMILY
LITTLEWORTH INFANTS SCHOOL 1942. by Ken Howarth
Friday, 29 June 2012
My first memory of the infant's school was that we had to have a sleep in the afternoon on little camp beds and had a pillow and blanket.
And the teachers would grow bulbs by putting them on top of a bottle that had water half-filled and the bulb put on top so the roots would grow down to the water and the green shoots would grow up until it made a flower.
Then there was catching frogs in the pond that was in the inner garden, with Melvyn Harston we use to walk home together, he lived 8 houses down the road from us.
I remember one morning when I got to school, that some kids were looking at something just inside the front fence,
It was the skin of a snake had had been shed in the night.
I never saw a snake in the wild but I did see one when I was 12,
Dad use to take us on the train to Doncaster races to see the Saint Leger.
We would walk to Stairfoot Railway Station.
Then at Doncaster we would Walk from the Railway Station.
We would call into a Small Museum.
On the top floor, they had a Glass Bee Hive with a glass runway out of the window.
So you could see what was going on inside the Bee hive, this year they had a glass tank with a snake in there and that had just shed its skin.
But what sticks in my mind is the time I was court out trying to Play Truant.CIt was at playtime and some of us went up into the weeds that grow on the high old ash tip that were over our heads and it was good fun running around and they in the school playground could not see you, we were well above their eye line.
We found this ring of weeds that that had been knocked down before we found it, and some kids and I sat and we could hear the kids playing in the playground and then the whistle went, and some kids ran back into the playground, but about three boys and two girls just sat there laughing and saying how good we were.
We were there for about twenty minutes when we saw the school bobby walking on the canal towpath and he saw us. He was going to Cundycross.
He pointed at us and shouted out at us, to get back to school and he turned around and set off, back down Littleworth Lane to the School.
I with the others ran back into the school I was the only one at went into my
Classroom. I just went and sat down and said nothing the teacher must have
Thought, I had been in the toilet and she said nothing just went on with the
Lesson Sometime later the classroom door opened and the Headmistress and the School Bobby came in and the Headmistress, said had anybody just come into the classroom.
Every kid in the class pointed at me and said He Did. I had to go to the headmistress office and with the other kids got a good telling off by the School Bobby
DID ANYBODY COME INTO THE CLASSROOM,
IN THE LAST FEW MINUTES
HE DID.
Many ex-students of the then, Barnsley Technical College will remember Dr. Walkden, Head of the Business Studies Dept;, this photograph was take at his retirement "do". From left to right "Doc" Walkden, Mrs Walkden, Mrs Joan Spanjer, Mr Derek Spanjer (lecturer) me, (just look at the hairdo), Mrs. Edna Cooke and Stan standing behind.
2nd May 1969
My little brother John, who was dressed as a miner, in the Coronation Fancy Dress competition - June 1953. He was 6 years old.
John walking down to the Fancy Dress Competition - June 1953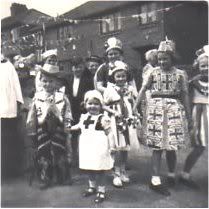 Coronation Fancy Dress, Edwin Williamson, Elizabeth Feeley, Myra Williamson, Jean Townend, I shall have to rack my brains for the other names.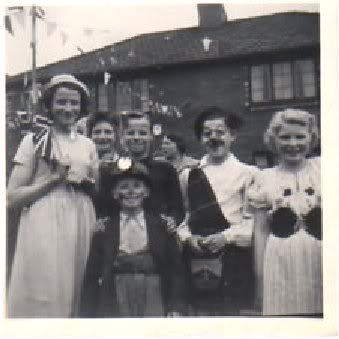 Fancy Dress no.2 , Margaret Lawy, Maureen ? Ronnie Law, John Feeley, Eric Boothroyd and Sheila Ives, the lady in the background is Mrs. Green. The photos were taken on "The Green" at the bottom of Wilthorpe Crescent, where we lived.
Proud Mum and Day - May 1964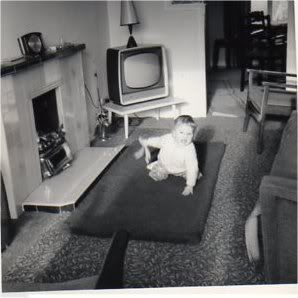 Our baby, Janet, I put this photo on to the website to show the type of home we had in in the 1960's. The fire was laid, but not lit, that is why there is no fire guard in front of the fire.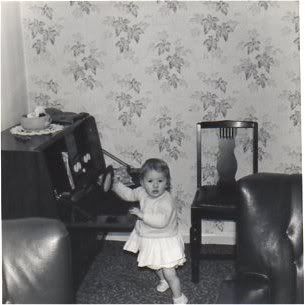 Janet, choosing a record to play on my mum and dad's radiogram.
Michael's Baptism Day - June 1967, This photo includes from left to right, my brother John, (kneeling), my dad, my cousin David, my auntie Mary, my mum, a friend, me, my sister Elizabeth holding Michael and Janet who was aged three.
John Lloyd, Janet and Elizabeth Weston. - 1967. Janet would have gone to bed in her little red wellies if she had been allowed to.
Louise Cawthrow, Michael Lipscombe, Kathryn Welford and Michael Cawthrow, ready for practising their cricket.