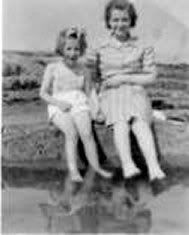 After that first holiday with my mum & dad in Scarborough, I went on holiday with my aunts, Jack & Tony a few times, here are a few holiday snaps. The quality is not as good as I would like it to be, they are old photos.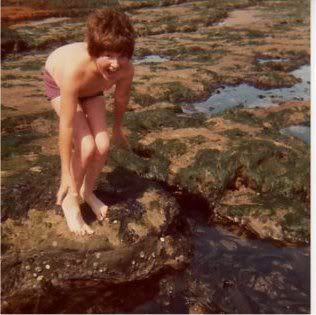 30 years later, our son Michael in the rock pools at Scarborough.
music ~ room full of roses
Dad at Scalby Mills, Scarborough, we had many happy holidays with him and mum.
Blackpool 1947
The photograph below was taken in Bridlington, I like our Tony's swim suit reminds me of Captain Webb, the first man to swim the English channel.
Good grief, just look at the size of the bow in my hair, this was taken in Scarborough - June 1946, it was the first holiday we had after my dad came home from the war.
Rock pools ~ Scarborough
The above photos were taken on the first holiday, we had after my dad came home from the war.
My cousin Philip, with his daughter Julie in Deal in Kent.
Bridlington 1950
Blackpool ~1947
These 2 photographs never fail to raise a laugh, they were taken in Blackpool in 1947. Aunties Annie & Sarah were horrified when they saw the first one, and indignantly returned it (they weren't quite sure, which of us was the donkey. After a heated discussion the photographer took another one, the 3 of us in the car, we still couldn't work it out if the donkey was back. I have named these "The Gormless Three"
.
Bridlington 1949 with my little John
We went to Bridlington a couple of times and stayed in a small wooden chalet which was situated in Grangers Camp. It was a few miles south of Bridlington and we had to walk quite a long way on the cliff top to catch a bus into Brid. We were fascinated by the chalet, it was like living in a doll's house for a week, it was called "The Moorings" and was owned by Mr & Mrs Mouncy who ran the Fitzwilliam pub on Sackville Street, Barnsley. Below my Grandma on the veranda at "Moorings". Mary & Dad to the right
Above, Auntie Sarah with her pet dog, Rover. The concrete block on which she is sitting, was one of many. They had been placed on the beach in the event of an invasion, during the war.
My little brother John, in a cardboard cut out.