BARNSLEYANDFAMILY
sorry i just forgot to put in my surname, its jepson think it may help!!!!!
REPLY TO RUBY BARRACLOUGH FROM SUSAN CURTIS.
Hi Mary,

I was enjoying looking through your wonderful website and noticed on the family search that Ruby Barraclough was trying to contact anyone who might remember her, particularly Doreen Cooper. My name is Susan Curtis (nee Jackson), Doreen Cooper is my aunty. Doreen moved from her house in Monk Bretton in the early eighties. Sadly, she did not let anyone in the family know where she was moving to. I often wonder how she is, but can only respect that it was her choice not to reveal where she was relocating to.
My dad (Roy Jackson) is Ruby's cousin and Doreen's brother, he is well and still living in Barnsley. My uncle (Frank Jackson) is Doreen's brother and is still living in Thetford, Norfolk. I still remember Ruby, Jill and Ted from when we regularly visited aunty Annie and uncle Alan (Ruby's parents) at their house on Wilby Lane, (I was quite young at the time).
I would like to say hello and send my best wishes to Ruby and family, I hope they are well. I was suprised to discover they are all living in Seattle, unfortunately my dad and uncle Frank lost touch with them. I am sorry I can't be more help regarding the whereabouts of aunty Doreen. I realise that Ruby posted this search in January 2009, i only recently discovered it or I could have replied more swiftly.

Regards,

Susan Curtis
IF YOU HAVE ANY INFORMATION WHICH MAY HELP THE PEOPLE SEARCHING FOR THEIR ANCESTORS, PLEASE WILL YOU EMAIL ME

barnsleyandfamily@msn.com

SEARCHING FOR THOMAS MURRAY.
| | |
| --- | --- |
| From: | kim simpson |
| Sent: | 03 May 2011 21:29:59 |
| To: | barnsleyandfamily@msn.com |
Hi,

I am trying o trace the family of Thomas Murray who may have passed away now. I believe he lived in shaw street and was told he was born in Roscommon.

He is my grandfather who i have never met but would like to get in touch with living family for photos etc.

This would mean alot, please help, any feedback would be most helpful

Thanks

Kim

Thank you.
Hello Mary,

Thank you for replying, im sorry to hear you have not been 100%, hope you are on the mend.

Below are copy msgs i have previously sent

Im sorry to keep bothering you, i truly am but as you can appreciate this is very frustrating for my self and your forum is the only hope i seem to have.

I did have another look at the forum the other day and it seems to have the same info i had sent originally.

Thanks again Kim x






Hello,

Thanks for getting back to me. I will have to check those details with my mum, she doesn't really have much info with not being in touch for so long. She has never even met the children of Thomas and Bridie.

Can you tell me if you think the names of the children are correct? with the woman you are thinking of?

i will be back in touch

Thanks

Kim





Hello Mary,

I have spoken to my mum and unfortunately they are all the details we have of them, she doesn't know if they moved on etc.

I hope to speak again soon

Regards,

Kim

gw81@optusnet.com.au
To barnsleyandfamily@msn.com
To barnsleyandfamily@msn.com
 
hi,i have found some more information that may be useful towards my search. the man my grandfather believe was his father he met when he was about 5-6 yrs old his mum pointed him out in the street and he met with him a few times,he was a electrician for the barnsley corporation council(1930's) the man had a daughter who must of been about 14-15 yrs at that time as she worked selling bus tickets(my grandad called her a clipper) they lived in a redhill kendray...soryy if my spelling of places is incorrect..i really think thus information might be of help.

I have received this email from Julie, please will you read it, maybe you can help her.
THE GUEST FAMILY
> > hello my name is julie and my dad (stephen guest) is from barnsley his
> dad john guest was born in 1925 , johns mums name was annie guest.im
> trying to find out the name of johns father but this is remaining
> impossible..john is now in his 80s and desperate to know who he
> was..annie lived in blucher st had a sister ellen guest they may of also
> live in wilson st...my grandfather (john) remembers a man who lived in a
> redhill st(or similar name),maybe scottish, he believes he may of been a
> electrician who may of worked for the barnsley council on the markets
> and thinks he may of also had a daughter to another woman.annie he
> thinks worked in the penny bank.annie later remarried we believe to a
> man with last name thompson,i think she died in about the 1950s. im
> desperate to find out any information or if anyone can give me
> information on the guest family back in 1901-1960,ive tried all the
> sites nothing on his father as its not on the birth certificate.
> > john worked in the mines and later married marion.and moved to
> australia,where we all are now.
> > thanks for taking the time to read this.

Elizabeth S has sent me this photograph, she is trying to identify the man and woman pictured below. If anyone recognises them please will you contact me at barnsleyandfamily@msn.com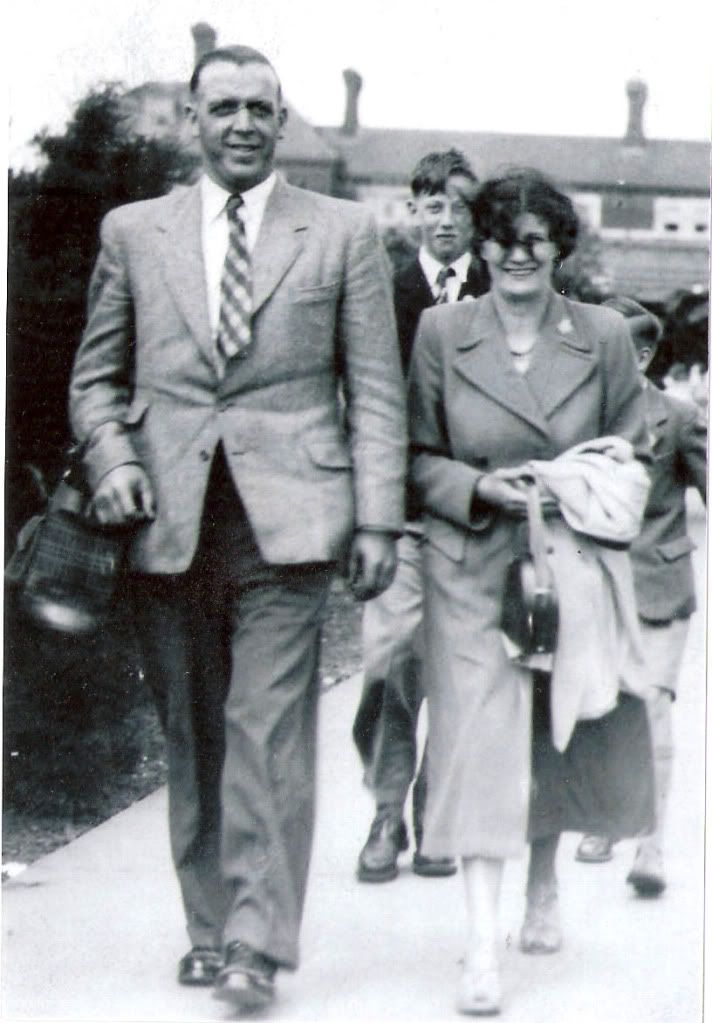 PETER DALLAS
Hi Mary,
I wonder if you could put the following in your Family Search section, please?
Many thanks, Peter
peter.dallas@ntlworld.com
I have lots of information, including family trees, on the Dallas, Washington and Kilner families of Wombwell. I would be pleased to share this information with anyone who is interested. Also I would welcome any information that would help me expand my own records.
Peter Dallas
Tom Oliver



Hi,
I was born in Jump in 1931 and moved to Bradford with my parents Geeorge and Mary ann Oliver in the early 40s, My Grandad was Willie (Bill) Cusworth and had 4 sisters living in the area, Edith was married to John Ibbotson (greengrocer), Gert was married to David Clifton, my parents lived on Church st behind the "Coach and Horses" and my grandad lived on "Jump top" not far from "The Flying Dutchman" I am living now in Alberta Canada and would love to find some of my relatives or someone who remembers Tom Oliver (me)

Shauna Gooch Foliaki:
Hi there. I love the site! I am from the US and was just in Barnsley in March. My relatives come from there (William Edmond Gooch/Ann Birkinshaw). I was able to meet Peter and Margret Stratford who still have a connection to Hill Top Farm and graciously show me around there as well as where Gawber Hall used to stand. Peter also gave me a piece of "Gawber Glass" which I shall always treasure. I am still searching out my family lines and am focusing on the Gooch line at the moment. I have hit a dead end and would love some help.Thomas Gooch (1732-180) is the first of the family I see that came up from Tasburgh Norwich and married Elizabeth Belton from Wakefield in 1769. His son John (1773-1853) married Ann Ellison (1772-1840) from Drax Yorkshire in 1802. Their son William Edmond married Ann Birkinshaw and brought all of his family to the US except John William and Joseph. So. . .I am looking for anyone who has more information on the Gooch line. I would be very sad if that line died out in England. It is flourishing here. I loved Barnsley. I am sure my ancestors pined for it often. Thank you
| | |
| --- | --- |
| From: | Jill Clark (forchelsie@msn.com) |
| | |
| Sent: | 24 January 2009 20:39:50 |
| To: | barnsleyandfamily@msn.com |
Ruby Barraclough, nee Sellars, born in Barnsley in 1919.
I emigrated to Seattle, USA in 1980 with my husband Ted, to live with our daughter Jill & her husband.
When we left my cousin, Doreen Cooper, nee Jackson, was living in Barnsley and I would like to get incontact with her, or anyone else who might remember me.
Hello, can anyone help me find relatives in pensilvania usa, my mothers aunties emigrated there when she was young, her name was joyce white her mother annie madden was married to tom white, my mother was born in 1930, unfortunately I dont have there names. if anyone knows anyhting please get in touch ,many thanks Linda Robinson.
Steve :
Hello -- I'm trying to contact a Mr John Murray who posted on your site about Dearne Valley Tramway which ran through Wombwell ----- my father would have liked this site, sadly he passed away two years ago he came from the village of Jump named after the fact that you had to jump over a stream dividing Elsecar from Jump as a lad he qualified for Barnsley Grammar School so he had to walk at the age of eleven to Elsecar or Wombwell rail way station to get to Barnsley in all weathers, then walk from the station up to the Grammar School do a day's schooling and come home because he came from a small village and was not very well off he was bullied and he hated every minute of it but he ended up as the senior treasurer of the Trent Regional Health Authority and one of the First people in this country to programme a computer for wage pay rolling the computer it's self was based in Chapeltown Sheffield at Newton Chambers I remember seeing it in the 1960's in a room twenty foot square with flashing lights and a paper tape punch out it took hours to do what you could do on your home computer today. Because Jump was such a small village when there was a mining disaster close by the dead from Jump were buried in Wombwell because Jump had a church but no cemetery. -- Any reply welcome.
ann jowitt:
looking for information of the kemp family of cudworth nr barnsley ,alfred ,robert ,beatrice ,emma ,ivy ,percy ,horace,
Lorian worsley nee griffiths:
My father came from hoyland was born 1923 trying to trace any other relations with the surname griffiths also anyone who can help me sort out a descrepancy on my greatgrandparents ada and thomas griffiths buried in hoyland cemetry with their son ronald i believe my middle names are named after ada lindsay crawford not sure which is her maiden name can anyone help then i can trace my family tree more they lived cherry tree street hoyland
sincere thanks
SEARCHING FOR WINNIE WHALLEY
Hi,

I'm trying to trace information on a Winnie Whalley - when clearing out my grandma's house we found twenty or so letters from Winnie to my grandma between 1938 and 1942. I am putting together a half hour radio documentary on these letters so am trying to find out as much as I can about her and thought that this may be of interest to you,

Thanks,
Dan Hodgson.

SEARCHING FOR THE KENNEY/KENNY FAMILY PARTICULARLY PATRICK KENNY.
Well thanks Marty
I did go into your site and its very interesting. I am researching Kenney, Kenny but looking for information on Patrick Kenney born around 1825 Cath and I have been looking but can't find him his son was James Kenney Mariner from Newcastle up on Tyne and Married to Ann Green James died at 28 in 1866 he was my great Grandfather . Ann later married a Thomas Close and had a number of children to Thomas all lived in the Newcastle up on Tyne / Gateshead/ and
South Shields area.
Searching for the BOTWRIGHT FAMILY.
Geoff Kerr-Morgan:
I came across this excellent site whilst doing an engine search for the name BOTWRIGHT. My Gran Candace Botwright from Seaham in County Durham married and became a Kerr-Morgan. My Grans parents originated in Norfolk/Suffolk and there were about 11 children at least one of who moved to Barnsley. another Zach emigrated to the USA around 1902. I would be grateful if any Botwrights reading this believe they may be related, please email me on
geoffrey.kerr-morgan@ntlworld.com
CAN ANYONE HELP FIONA, PLEASE SHE IS SEARCHING FOR THE GREENWOOD FAMILY.
Further to previous I can confirm what I have found so far as follows -
John William Greenwood b.1900 and lived in 4 Sidney Terrace, Cemetery Road, Barnsley. The house had been in the family since before he was born (he's second generation Barnsley, father was Arthur Greenwood born Barnsley and mum Hannah Elizabeth Greenwood nee Dickson) so I know he was living at that address at least 60 years or more.
John William married while he was in the army in 1918, the name I have of his wife is Winnie Greenwood nee McNally - although I think this was just a name she went by as opposed to one she was born under - I can't find any info for Winnie. He had a son John Richard Greenwood 21st September 1918 who may possibly have died in 1990 in Barnsley.
Trying to find anyone who may have known the family, maybe know where they are buried etc and any details of their whereabouts between 1960's until 1990 when I suspect John Richard died, any other living relatives would be amazing.
Kind regards, fingers crossed!
Holdsworth and Burnell Family
My full name is Harry Burnell b. 28 July 1920.
My sister Mary Burnell b. 25.02.1919. d. 26.01.1992 both born in Bierley. Bradford.

Thomas Hinchcliffe. George Holdsworth. James Stott were all colliery workers.

I spent some time in Barnsley during my lorry and bus driving days. Just after the war I drove a wagon on pit to factory coal which covered a lot of the Barnsley pits and further afield.

I moved on to bus driving for the West Yorkshire Road Car Co Bradford depot.

Years later found me coach driving for Wallace Arnold Tours which apart from tours covered express coach routes all over Britain but mainly Yorkshire to Sussex, Cornwall and Devon which took me into Barnsley for passengers

My mother's maiden name was Lily Holdsworth B 11 May 1898 in Harvey Street Barnsley we are about to send for her birth certificate.

My father Fred Burnell ( Bradford) and Lily Holdsworth were married in Barnsley in 1918 from a house in Mottram Street.

They were divorced in 1927 and when this came about my mother Lily Burnell (nee Holdsworth) married Thomas Hinchcliffe in 1927 from a house in Heelis Street Barnsley.

My mother had four brothers..Albert. George. Horace. Harry. Three sisiters..Amy. Elizabeth. Nancy.

My mother's side of the family were all from Barnsley.

Her Grandmother Ellen Stott b. 1825
G/father...... James Stott b.1825
Race Common Rd Barnsley.
Head of household James Stott. 1861 UK Census. In 1881 UK census were living Long Car Street Barnsley.

Her mother...Mary Ellen Holdsworth nee Stott b.1857. father George Holdsworth b. c1856
Married 14 December 1873 Church of England address noted as St Georges.
In 1881 UK Census were living in Sykes Street Barnsley. Head of Household George Holdsworth.

Moved later to Harvey Street Barnsley where lily was born in 1898 who was the youngest of the family of four brothers...Albert. George, Horace. Harry. sisters Amy Elizabeth. Nancy.
If you have any information which may help Harry, please will you email, Mary ...............barnsleyandfamily@msn.com
Thank you.
I am very pleased to report that a family member of Harry's, saw the above and is now in contact, Harry is delighted.
Harry has been in touch and as I write this, his sister and her husband are visiting him in Australia, I am so thrilled that they are finally together.
--------------------------------------------
I am very sad to say that Harry died last October, shortly after his 90th birthday, he was dearly loved by all who knew him and is missed so much. Harry was a member of the Yorkshire Expats' Forum, we knew him as "Barney". He was of the "old school" and a true Yorkshire man, who never forgot his roots, his sense of humour was wonderful, and some of the posts he wrote on the forum had us rolling with laughing.
I am so pleased that he had the pleasure of meeting his Barnsley family and enjoyed knowing them for the last three years of his life.
I was very honoured when Barney told me that he looked upon me as a member of his family, because, I had brought them together.
Harry (Barney) holding the latest member of his family at his 90th birthday party August 2010.
RIP Barney "me owd flower", you deserve it.
21st September 2008