This letter was written by my dad, to my mum at the time of our move to Burton Grange.
14-10-44 Gnr. J. Feeley. 11424796 152/51 L..A.A Regt. R.A. CMF
My Darling Wife,
I've already written an airmail, in answer to the one telling me you really got the house at last. I was happy and relieved to know at last we had got a home, a real home, one where we will have all the comforts & things we've always wanted besides, the main point is that it will be much more healthier for both you and our Mary. I am waiting for the letter now with our new address. It was a coincidence I should get the letter on the very day you were moving. Now you will have had a whole day in it, but I don't suppose that you have half finished the work yet, so I'll not be impatient, over not having any mail for a while . Although I think that you will mange to write some sort of a letter if only to let me know how you are getting on. I bet you can't help it.
I am hoping and praying, now Sweetheart, that you both are able to settle & be reasonably happy there until I come home. I think you will, with having all the things we couldn't use before. Lady, I can just see & hear you singing as you are going about your housework & I can see you settling down in the afternoon when you have finished, for a quiet spell, with the radio.*. I hope that you will get that record which I told you of, I am sure you will like it. I've another one, but this is more of a dance record, but I can assure you, it's a good one. It is Nat Gonella's Georgians, playing That's My Home. The one I thought was Roy Fox's band. The number is Columbia F.B.258T. Of course, Sweet, don't make yourself hard up buying these records, wait until you can afford them. In another week or two, I shall have enough in credit to be able to send you some more money, I can't tell you how much yet, although it will be above £5.
I wish I could have tot it away now then it would have helped you with your flitting, but it has been nearly impossible . I have to wait until I get a statement of accounts from England. They won't let you draw completely out. They always look to the time you many have to pay for something. Anyway, I'll see this week if I can't get at least £5 off. That is when I get the address
(The letter goes on, but the remainder was personal to my mum and dad)
He signed as he usually did.
"With all my love, darling",
"Your loving Husband"
Jimmy.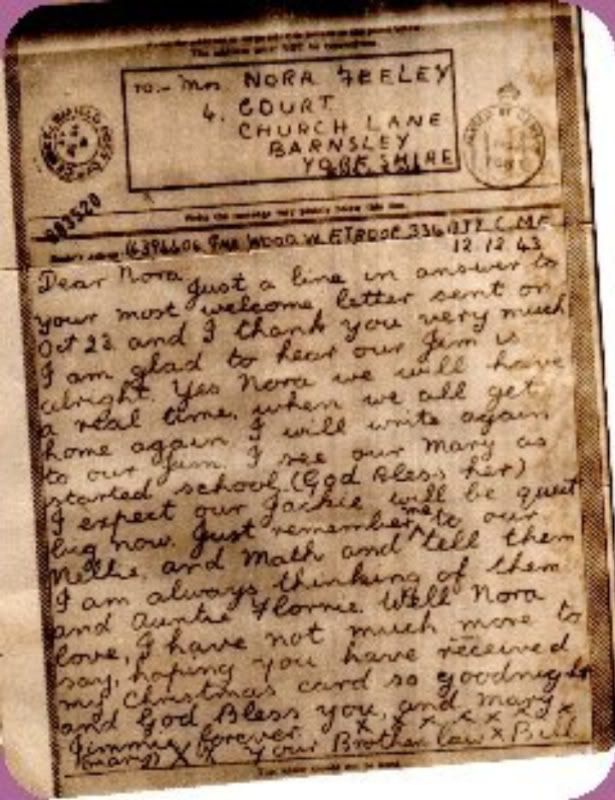 Above a letter to my mum from my dad's brother, Bill Wood.
An extract from a letter written by Dad to Mum 1941.
Go out and enjoy yourself a little. I want you to & if I know you are doing, it will make me happy too.
Don't forget to look after yourself, here I am rambling off & these letters are censored., they'll think we are a real couple of lovebirds. Well, Darling, I'm just about whacked I haven't had my clothes off for I don't know how long & I've six lousy buttons to sew on, very time I bent down today bang went another button. I am holding my trousers up with my hands in my pockets.
When I write my next letter I shall know what troop I'm really in, this is only temporary, so don't send those things. But write me a letter. X X X
KEEP WHERE I AM SECRET, THAT MEANS EVERYONE
DEAR.
JUST. SAY. I'M, IN SCOTLAND
X X X
I think that's all for now, sweet, with All my love Dear, your loving husband
Jim x x x
The letter below, was to my mum from my dad's brother, Bill. By strange coincidence they met up when they were serving in Italy. Dad borrowed a bicycle to ride over to see Bill, unfortunately dad imbibed too much and instead of turning left, whilst riding down a hill, carried on and went straight through a hedge.
Letter from Dad's brother, Bill Wood. 19 March 1944
Dear Norah,
Just a line to let you know that I am alright hoping this letter finds you the same. Well, I have just received a letter from our Jim and he is alright I want to thank you very much for the cigs you sent me, as I have received them this week.
Well Norah, how is our Mary going on? Just as nosey as ever, our Jim wrote and told me that he was going to buy a baby for her when he comes back home. Do you see Nellie? I want you to go and see her when she is in the hospital. I also want to thank you what you have done for our Lottie and I shall not forget you, when I come home again.
Just give my love to our Mary and our Jackie and may God Bless you all, so goodnight and thank you once again.
X X X X X X Your brother Bill