BARNSLEYANDFAMILY
We have always been a very close family, "one for all and all for one", being an only child for nearly eight years, I formed a very close bond with my two cousins, Jack and Tony. I have already said that we three were brought up together and have always been as close as brothers and sister, later our cousin David came along, then my brother John, closely followed by our cousin Philip and finally, my little sister, Elizabeth was born in 1950, as the family extended, so did my brothers and sister. I am sure that there are other families like ours, so very close, it is a wonderful blessing.
I have collected some photographs of all of us, over the years, so I thought that I would give "The Cousins" their own page.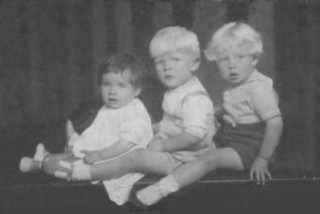 1940 - The first photo of me, Jack and Tony.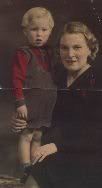 Tony with his mum, my auntie Sarah, this photo was taken to send to his dad, who was serving in France. WW2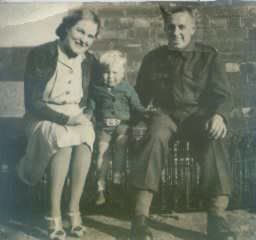 Tony with his mum and dad, during the war, when Uncle Tommy was on leave.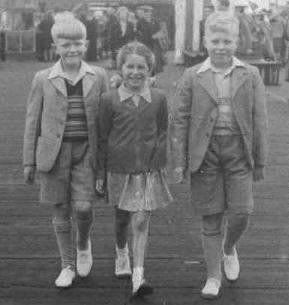 Blackpool - 1947, I went on holiday with Auntie Annie, Jack's mum and Auntie Sarah, Tony's mum.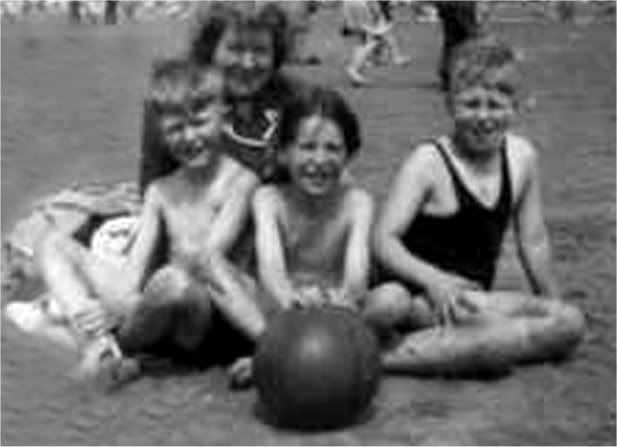 Blackpool 1947, Auntie Annie (Jack's mum) is with us, I am jealous of our Tony's swimming coustume.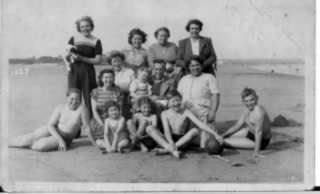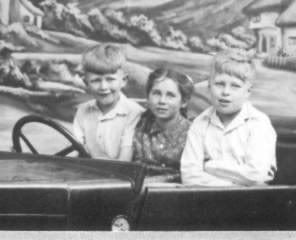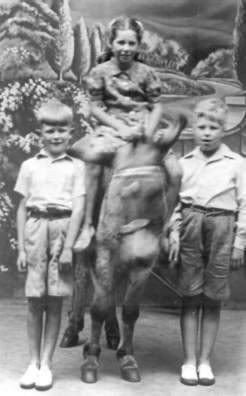 I always laugh when I look at the last two photos, just look at the painted scenery, the donkey is blurred because it appears to have moved, yet I always imagined it was a "stuffed one".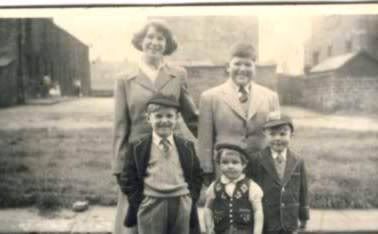 Whitsuntide - 1953. Mary and David at the back, with John, Elizabeth and Philip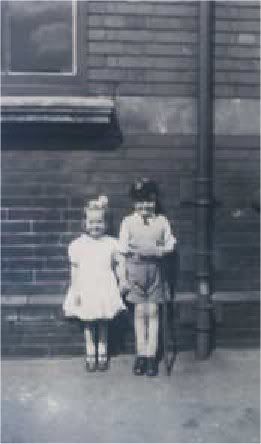 My little sister, Elizabeth and our cousin, Philip (dec) 24th December 1948 - 14th September 1985.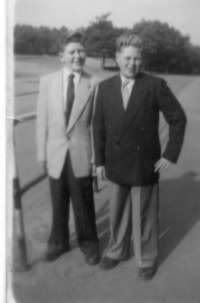 Jack and Tony, Whitsuntide, proudly wearing their first long trousers - 1952. They are standing outside St. Mary's Boys' School, Churchfield, where they both attended, as did my dad. To the left of the photo is a barrier to stop the boys from running out of school, straight into the road.
Five cousins at our daughter's 18th birthday party. - February 1982
From the left, Jack Winder, my sister Elizabeth Feeley, David Watson, Mary Lipscombe and Tony Hawley.
A few years later, just as close and just as smart.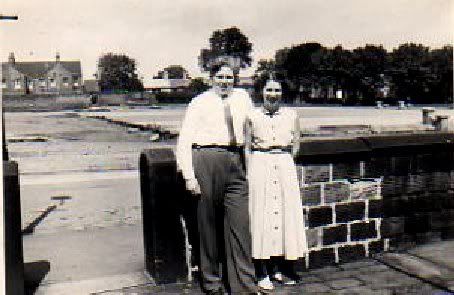 Tony and Mary - 1953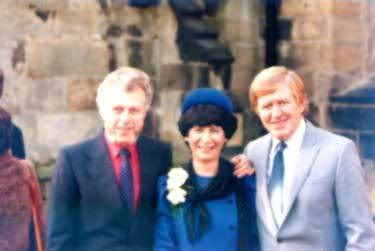 Tony, me and Jack - 27th October 1984.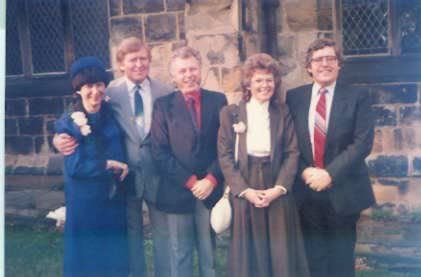 Me, Jack, Tony, Elizabeth and David. - 27th October 1984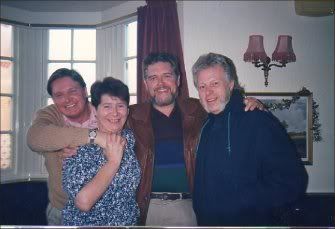 New Year's Day, 1989. John, me, David and Tony.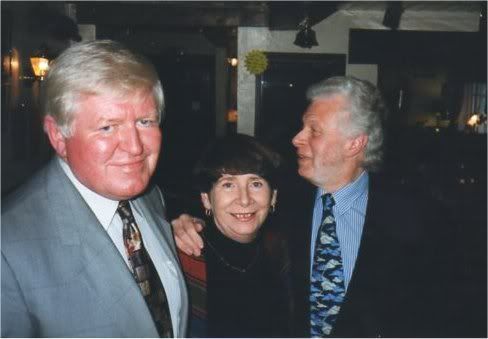 Jack, Mary and Tony 1998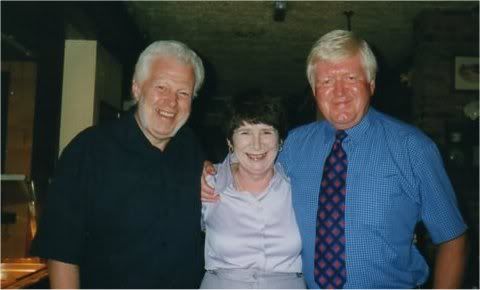 Tony, Mary and Jack - 1999
Mary, our cousin Julie, Anne and Tony, this was taken at the Cherry Tree, High Hoyland, 25th October, 2004. It was Julie's first visit to Barnsley and we had a wonderful time.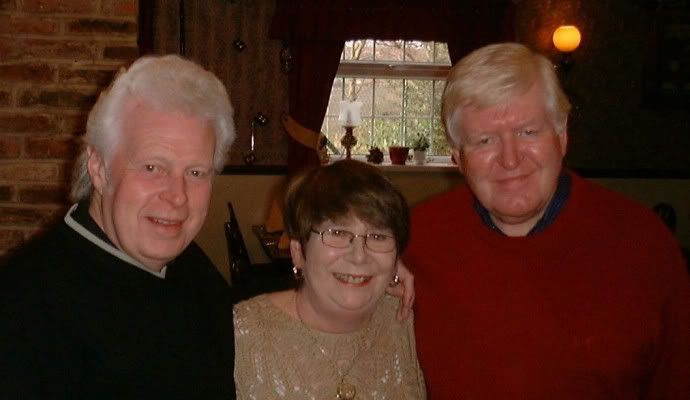 Tony, Mary and Jack - 2005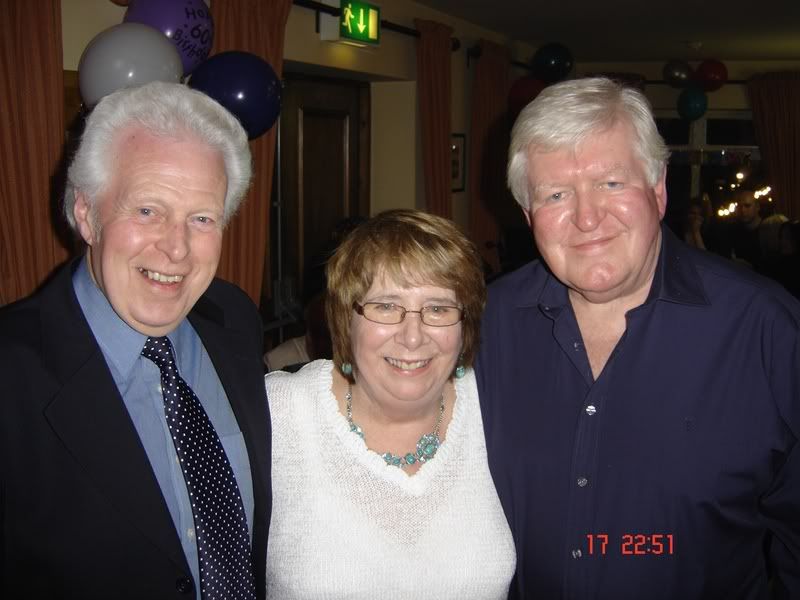 17th February 2007
Only Christ can walk with us through the darkness
and bring us into the light of a new dawn.
Only Christ can give us hope and certainty
that one day we will understand more clearly
the things that are mysteries to us now.
John Anthony Hawley (Tony) ~ 4th April 1938 ~ 2nd July 2008
Our dearly loved cousin, Tony died on the 2nd July 2008, after a short illness, it is very hard to believe because we were all so close, he was more like a brother to me,.been taken from us. Our family is absolutely devastated, by the loss of our Tony.
I know it is easy to say nice things about someone whom we love, but there wasn't anyone in the world who could say a bad word about Tony Hawley, he was a true gentleman, the kindness and compassion which he showed to others was a wonderful gift which he had. His sense of humour was second to none and there was nothing I enjoyed more than being in his and our Jack's company, I have laughed until my sides have ached, we could always depend upon him, each and everyone of us in the family.
"It is the laughter we will remember and the way we were"
Tony with his devoted wife, Anne, they would have been married for 47 years on the 7th August, 2008.
HAWLEY, TONY
Deaths - 07/07/2008
Hawley, Tony (Hardy)
Some friends we meet along the way,
Are thought of for a while,
Others we remember,
For a special deed or smile,
Friends who stay within our hearts,
Are very, very few,
But thats the kind of special friend,
We have found in you.
To us you were someone special,
What more is there to say?
We only wish with all our hearts,
That you were here today.
From Pressroom Lads
The more we live, more brief appear
Our life's succeeding stages;
A day to childhood seems a year,
And years like passing ages.

The gladsome current of our youth,
Ere passion yet disorders,
Steals lingering like a river smooth
Along its grassy borders.

But as the careworn cheek grows wan,
And sorrow's shafts fly thicker,
Ye stars, that measure life to man,
Why seem your courses quicker?

When joys have lost their bloom and breath,
And life itself is vapid,
Why, as we reach the Falls of Death
Feel we its tide more rapid?

It may be strange—yet who would change
Time's course to slower speeding,
When one by one our friends have gone,
And left our bosoms bleeding?

Heaven gives our years of fading strength
Indemnifying fleetness;
And those of youth, a seeming length,
Proportion'd to their sweetness.

Thomas Campbell
Music, when soft voices die
a poem by Percy Bysshe Shelley


Music, when soft voices die,
Vibrates in the memory,
Odours, when sweet violets sicken,
Live within the sense they quicken.

Rose leaves, when the rose is dead,
Are heaped for the beloved's bed;
And so thy thoughts, when thou art gone,
Love itself shall slumber on.
St. Mary's Church ~ Wednesday, 9th July 2008
The day of Tony's funeral is one which I shall never forget, it started
when I got up in the morning, Stan told me that he had arranged to toll the
bell for Tony's entry and exit into St. Mary's Church, he had kept it to
himself all week, I was so touched by such a thoughtful and loving gesture.

When we arrived at the church there were many people already going in, and
we were early, my brother and sister-in-law, were in our car. Our family
gathered at the gate of the church, waiting for Tony to arrive, followed by
Anne and Joy, I noticed a big group of men, mainly young ones walking
towards the church and guessed that they were from the Barnsley Chronicle
Newspaper press room. the printing presses had been stopped for the first time ever as a mark of respect. When Anne and Joy arrived, I was distracted by
looking at them and making sure that they were ok, when it was time for us
to follow them into church, I got a lovely surprise, all the men, with whom
Tony had worked had formed a guard of honour, flanking both sides of the path.
It was then, that I nearly cracked, but I didn't. I walked with my cousin
David from the USA, he was on his own and Stan, of course, was in church
tolling the bell. The church was full, over 400 people there, as Anne
said yesterday, there was such peace, warmth and comfort surrounding all of
us, it was wonderful.

The priest conducted the service beautifully, the eulogy he gave, summed our
Tony up to perfection, he mentioned how we had been siblings as well as
cousins, he talked of Tony and Anne's life together and how proud they were
of Joy and their grandson Henry. He also talked of Tony's joy of living,
his sense of humour, his kindness to people and the love that he gave to
others, every word was true. At the end of the service he blessed the
wicker casket with Holy Water and invited, Anne and Joy to do the same,
after we had followed Tony out of church, we went straight to the
crematorium, Anne stayed and shook hands with everyone as they left church
and thanked them for coming. This is a woman, who is a basically shy person
and will do anything to keep out of the limelight.

The service at the crematorium, was short, we walked in to the sound of Joy,
playing her cello, which she had recorded for her dad. Afterwards, we all
met up at the Miners' Rest Public House, for a buffet, it was nice to see
people who we haven't seen for a long time, (especially, my young cus, Julie) after a couple of hours, I was
ready for home, my back was really hurting, but it was worth it. Stan, my
sister-in-law, Lynda and I, returned to our bungalow and just chatted
quietly, remembering.
JACK WINDER - RIP.
11th September 1938 - 16th March 2012
Jack in 1976 whilst he and his family were visiting us at Ardsley.
A more recent photo.
He is so sadly missed.